When moving to a new house or new office, people tend to focus much on its renovation to improve its appearance. Often, they forget to change door locks, which are one of the most important security measures. You do not know who have access to the old keys of the house or office. Anyone who has the old keys can easily enter inside your properties. To prevent this from happening, change the door locks. Find a certified locksmith that offers Chatsworth lock change service. Make sure that the locksmith is certified by ALOA or Associated Locksmiths of America. Locksmiths that are certified by this organization have passed their examination and you should check their background so that you can be sure that they are not only skilled but also trusted. We are the locksmith company with excellent background and large number of satisfied customers. You can consult us for any locksmith issue and we will help you with the most professional solution available.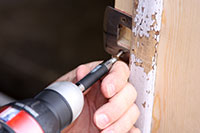 If you decide on changing the old locks, invest on excellent quality locks to maximize the protection of your house or office. Aside from lock change, other services that our locksmith in Chatsworth, California offers are:
Cabinets locks
Key change
Lock installation
Lock open
Lock re-key
Lock repair
Another option to ensure the safety of your new office or house is to have the locks re-keyed. Our expert locksmiths will move the pin so that the old keys will no longer work with them. Instead, new keys will be used to match the re-keyed locks. This is cheaper than having the locks changed since you don't have to buy new locks. But if you think that the old locks are not sturdy enough, it's best to have them changed with new ones of high quality. After all, it will all be for the safety of your office or home. The cost of re-keying or changing locks depends on several factors including the number of locks to be re-keyed or changed, the hours it take to complete the job and the distance of the locksmith's place to your location.
We offer the most competitive prices for locksmith services
For speedy and effective 24/7 emergency locksmith assistance, rely completely on our mobile crews which consist of professionally trained and experienced technicians. All of our specialists are fully equipped to provide even the most complex lock repair or replacement. Customers receive quick key repair and replacement as well. Furthermore, we are proud of the fact that a full array of automotive, commercial and residential locksmith services is consistently provided. Our company delivers the best solutions in the fastest possible manner no matter whether the problem is caused by lost car keys, damaged file cabinet lock or broken house keys. When there is a need for security improvement, depend on us to provide impeccable lock, door closer or deadbolt installation along with installing safes of all types and sizes as well.
It's a good idea to keep our numbers handy so if you need our service, you can call us anytime. We are always available on call 24/7 in Chatsworth, CA. We are available even on holidays. So if you experience emergency lock problems like house or office lockouts, there's someone you can call to resolve your concern. And there is no extra cost for calling us on weekends.